---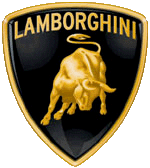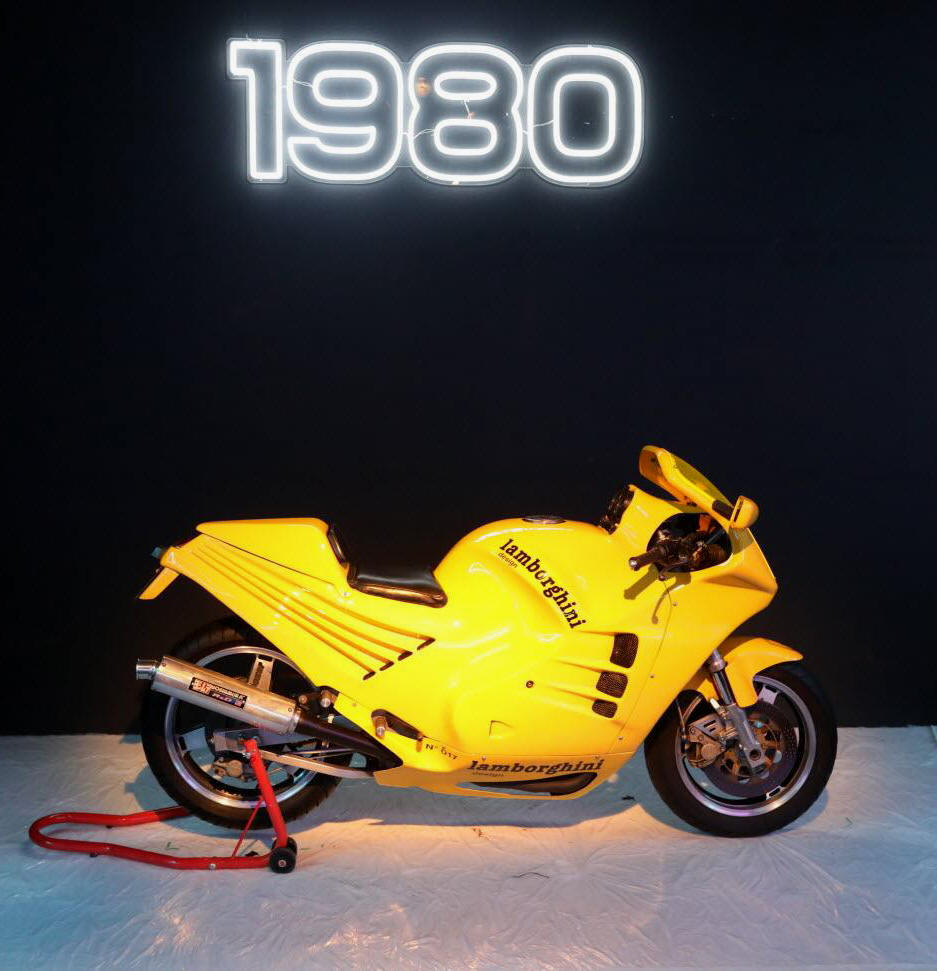 At the Schlumpf Museum in Mulhouse this Lamborghini motorcycle is one of the super-stars of the "Pop Lamborghini" exhibition. So rare that most enthusiasts think it is a myth, this is an exceptional opportunity to see one in the real. Only a handful have ever been built. To learn more about this spectacular piece of technology, please click here...
MONTE-CARLO LAMBORGHINI Centenaire
Berlinette V12 - carbon fibre monocoque (1990)
The mythical Monte-Carlo Lamborghini, first road-Car with Carbon monocoque, ahead of the Ferrari F40 still with tubular chassis
Powered by a 455-HP Countach engine officially provided by Lamborghini
A race-prepared Monte-Carlo reached 354 km/H (221 mph) at Le Mans in 1993.
We own the first example built, formerly property of Lamborghini. Read the whole story here
The mighty "downdraft" Countach QV powerplant is one of the key assets of the Monte-Carlo Centenaire
This fabulous V12 quad-cam engine combined with the carbon chassis was a world-première for a road-car
We own the very first Monte-Carlo Lamborghini ever built, formely owned by Lamborghini
PRICE : On request
---
EXCLUSIVE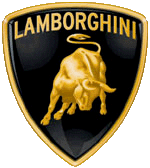 LAMBORGHINI Aventador SVJ Roadster
new, to be delivered by the factory
[Lamborghini factory archive picture, does not show the actual car for sale]
Price : if seriously interested, please enquire
Michel Levy: +33 (0)630 096 491 or Neldo Levy : +33(0)686 699 827 - Worldwide Shipment
---
The Lamborghini Pregunta officially certified by the Polo Storico Lamborghini
Pictured with the Dassault Rafale Jet-Fighter (both wear the same stealth paint), the fabulous Pregunta, last prototype of the Italian era
Just certified by the Polo Storico of the Lamborghini factory, as "a relevant and important part of the Lamborghini History"
PRICE : 2,5 M€
In agreement with Autodrome, Lamborghini exhibits the Pregunta in the Sant'Agata Museum
Only one was ever built, one of the most fabulous automobile in the History of Lamborghini
This working hyper-car claiming 333 km/h was never been privately owned
PRICE ON APPLICATION
---
RETROMOBILE : Lamborghini and Autodrome Paris present the Lamborghini Pregunta in Paris
Lamborghini-Paris, 8 Feb. : Neldo Levy (Autodrome) is about to start the Pregunta
to the delight of the guests. This prototype had never been publicly seen since 2008
During the Paris Retromobile Show 2019, the Polo Storico (Lamborghini factory) and Autodrome Paris, displayed the one-off Pregunta V12 at the Lamborghini-Paris showroom. The presentation, upon invitation to Factory Clients and Lamborghini experts, was led by Mr. Stevanin, Polo Storico Director, and Piero Stroppa, former assistant to Gandini & Giugiaro. Among Italian XXth Century prototypes and dream-cars, very few have such a visual impact. The Pregunta, built on a modified Diablo chassis, could have made it to production as the Lamborghini extreme Super-Car of the years 2000. Learn more here.
The Lamborghini Polo Storico has certified that the Pregunta is an important part of the firm's history. Lamborghini now shows this prototype in their Museum, among the most legendary Lamborghini. This enables Collectors & experts to examine this perfectly operational dream-car, swan song of the Italian period of Lamborghini, and a bold statement of audacity and style.
---
World record for a Lamborghini : a Veneno roadster sold for 8,000,000 $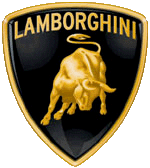 The extremely limited production (less than 10) but above all, the passion for Lamborghini justifiy
this incredible figure ; it confirms the steady increase in the price of the most exclusive and rare Automobiles
Some say that the Veneno looks like Batman's car, but its shape neverthless belongs to the
half-century long Lamborghini aesthetical tradition of provocative and extraordinary design
Today this car is worth about 2 times its original price (4,5 M$), not unusual for an extremely rare Collector item
---
Michel Levy: +33 (0)630 096 491 or Neldo Levy : +33(0)686 699 827 - Worldwide Shipment
---
LAMBORHINI 400 GTS 1974, one of only 150 ever built. Rare original fully restored condition, unique original interior exceptionnally preserved, formerly property of Autodrome Director, complete history, fastidious maintenance. An opportunity which will not repeat...

Price : [OPTION]

LAMBORGHINI JALPA 3500, Black with Cartier Red upholstery, 1984

This fine no-rust example was delivered new in Italy, and has been in the hands of a former Lamborghini Importer for 25 years. Odometer shows a mileage of 35,000 km only. Very good condition, upholstery exceptionnally preserved, supple and voluptuous. A rare and thrilling Classic Lamborghini. Price: [ TOO LATE, sold ]

LANCIA Flaminia Coupé Touring 2.5, with freshly overhauled 2,8 engine

Touring magic, and the quality of Lancia in its best period, one of the most beautiful GT of the XXth Century, with the Superleggera bodywork, and a delight to drive.

Price : 85.000 €

LAMBORGHINI Jalpa 3500, Rosso with Champagne leather, 1983

Very early example, inside fuel filler, single mirror, only 2800 km on the odometer. No rust, engine starts and runs wonderfully. She needs some cosmetic work: upholstery has to be re-assembled, it was partly dismantled in view of a new paintwork (needed). More detailed information on request. Price : [TOO LATE]

MONTE-CARLO LAMBORGHINI "Centenaire" (1990)

In 1990 under the supervision of ex-Ferrari, Alfa-Romeo, & Autodelta engineer Carlo Chiti,

Monte-Carlo Automobile, presentend the World first carbon-chassis GT, powered by a Lamborghini V12 engine. We have acquired the very first Monte-Carlo Lamborghini built. Restored to its original colour by Carrosserie Lecoq. Price : 795,000 €

FERRARI 365 GT/4 - rarer than the Daytona : one of only 400 Lhd built (1974)

Powered by the (mildly modified) Daytona engine, styled by Leonardo Fioravanti (designer of the Daytona and BB), it is the most expensive Ferrari of its time, acquired by par Mick Jagger and other celebrities. Our example is in remarkable condition, with original leather. Very attractive investment.

The best investment opportunity in a Classic V12 Ferrari. Price: 120,000 €

ASA-FERRARI 1000GT / 411, one-off with Vetroresina bodywork

Discovered in the USA, this berlinetta ASA is the only one known with glassfibre bodywork. It could be the Targa Florio 1966 race car, but possibly also special prototype "411 Vetroresina". Anyway, this car is unique. Almost complete and well preserved, she needs a restoration, and we hope to find out more about her History...

Price : 150.000 €

LOTUS EUROPE Type 46 very first Series (196

7

) - 1 of 300 built

The first mid-engine road-legal Lotus inspired by the F1 World Champion and Indianapolis Lotus single-seaters. The 1st series is the only version with fixed, aircraft-style windows, and chassis bonded to the glassfibre moncoque. Our example is one of the handful still with original engine, gearbox, bodywork and interior. [Too late, now sold]

FOURNIER-MARCADIER Barzoï Gullwing 1600 S Gordini (1966)

, rare mid-

engine version

Fournier-Marcadier first creation was a Lotus 23-inspired racing barchetta, affordable and fast. The ultra-rare Barzoï berlinetta with gullwing doors challenged the Alpine. Our example is the best verison with central 1600S Gordini engine, and street-legal thanks to a French Title. Very exclusive and of great historic interest, a race car for the road.

Price : 60.000 €

MOTOCYCLE LAMBORGHINI Boxer-Bikes Design 90 (1986) - one of less than 10 with aerodynamic fairing

The one and only Lamborghini motorcycle was so expensive that only a handful were ever built. Designed for Lamborghini by the racing motorbikes manufacturer compétition Boxer-Bikes, it offers the best technology with an outrageous, Countach-inspired fairing style. Autodrome owns two, a 900cc example and another, with 1000 cc engine.

MOTOCYCLETTE MIDUAL Type 1 - upon special order

Midual Type 1 - Luxury Motorcycle hand-crafted in France, upon special order. Midual's own twin engine is a pinnacle of quality and finish. Unique light alloy cast monocoque frame technology, and a passion for perfection - Available from Autodrome Paris

ASA-FERRARI 1000GT (1966) - one of only 90 built

The mysterious Ferrari berlinetta was sold under an alias, ASA - as was the Dino, so as to segregate from the bigger Ferraris. The engine has more BHP per litre than the GTB ! Chassis by Bizzarrini, style by Giugiaro. [Too late, sold]

AUTODROME PARIS buys your Classic, no matter its condition
OTHER CLASSICS AVAILABLE : PLEASE ENQUIRE
---
---
Property of an Associate of AUTODROME PARIS :
MATRA-BONNET Djet VS Gordini 1966, exceptionally original matching engine & colour
Price : [TOO LATE, Sold]
---
Multiple Le Mans winner Henri Pescarolo tested the Monte-Carlo Lamborghini on the Castellet-Paul Ricard race track.
A couple of weeks later a Monte-Carlo recorded 354 km/h on the Hunaudières during the Le Mans practice
The most exclusive Supercar ever : back in the eighties, a most ambitious project took shape, under the technical supervision of not less than legendary Ferrari, Alfa-Romeo, Autodelta engineer Carlo Chiti. Managing the newly created Monte-Carlo Automobile was F2/F3000 and prototype race driver Fulvio-Maria Ballabio, along with carbon-composite pioneer and F1 constructor Guglielmo Bellasi, and with Luigi Corbari (ex-Brabham & Alfa-Romeo F1 Team manager. To complete the picture, Prince Rainier himself supported the project with enthusiasm and with a long term vision for the yound and proud Monaco Company...
Fulvio-Maria Ballabio (left) with Prince Albert during a presentation of the MonteCarlo
Fulvio-Maria Ballabio persuaded Lamborghini to officially supply their latest V12 engine - taken from the Countach Quattrovalvole ! A huge 455 HP power was now available to make the future mid-engine super-car a true "prototype for the road" that would challenge the cream of the cream of Luxury GTs. Chiti and Bellasi managed to present the first carbon-chassis GT in History in 1990, beating the "neo-Bugatti" EB110 by almost a year...The Monte-Carlo berlinette was named "Centenaire", in celebration of the centennial of the Monaco Automobile Club. Whilst the Ferrari F40 offered a couple more HP (475), in return the Monte Carlo boasted a carbon fibre hull which humbled the old-school tubular chassis of the F40. A memorable achievement for an extremely small and young car manufacturer.
A most impressive race-inspired berlinette with Lamborghini V12 power and carbon fibre chassis - what did you expect ?
Very limited hand-crafted production started soon, followed by another version called GTB, also in extremely small numbers (maybe two or three)...The very first Monte-Carlo was first acquired by the Lamborghini factory, then returned in the hands of founder Ballabio, and is now property of Autodrome-Paris. We are very proud to own this important piece of Lamborghini and Supercar History. The driving sensations of this no-compromise super fast GT are matchless, and the history behind this supercar is absolutely unique, with its Lamborghini partnership, the prestigious Monaco Royal Family support and its bold, high-performance, high-tech concept.
The Lamborghini V12-Powered Monte-Carlo Automobile, fresh from bodywork restoration at Carrosserie Lecoq : a mysterious, impossibly rare Supercar, and a true milestone in Luxury GT History
The first Monte-Carlo Centenaire was acquired by the Sant'Agata Factory (period picture)
Now part of the Autodrome Collection. More : please click here
PRICE ON APPLICATION
---
PAOLO STANZANI : FATHER OF THE MOST FABULOUS LAMBORGHINIS
Engineer Paolo Stanzani (right), with Edmond Ciclet (Lamborghini-France, left) and Michel Levy (Autodrome, centre) at Lamborghini Sant'Agata factory.
Picture: Autodrome Paris
We have learned the sad news of the death of Paolo Stanzani, who created the first Lamborghini in 1963, after being hired by Ferruccio, with Gianpaolo Dallara. The Miura, the Espada, the Countach, the Islero, the prototype Bravo, all those legendary automobiles bear the fingerprint of Stanzani. Very young (24 years) in 1962 when he became part of Ferruccio Team of talents, he nevertheless managed, with a handful of highly gifted young designers and engineers, to create the car that would beat Ferrari: the 350 GT, first Lamborghini in History and a car that re-invented the meaning of Gran Turismo. The Countach was Stanzani's next achievement, a car that broke all rules with an out-of-this world Gandini design. The V8 Jalpa 3,5-litre engine is another of his technology brainchild.
Stanzani was also in charge of the conception of the Bugatti EB110, but left the Company due to disagreement with the boss Romano Artioli. Even though his talent has indeed given birth to the EB110, his name has been "politically" and unfairly cancelled from the history of the firm. Together with the 350 GT, the Miura and the Countach LP400, the EB110 remains one of his materpieces and one of the most advanced automobile of the past Century.
His name will stay carved in the heaven of the best Engineers of the XXth century, with Colin Chapman, Mauro Forghieri, Carlo Chiti, Keith Duckworth, Gioacchino Colombo, among a few others...
Paolo Stanzani gave us two interviews about the birth of Lamborghini and of the Countach, and about the "resurrection" of Bugatti in the early nineties.
Lamborghini 350 GT - "Mother of All Lamborghini" - 1964
Lamborghini Miura - 1966
Lamborghini LP400 (part of Autodrome private collection in the eighties)
---
Michel Levy: +33 (0)630 096 491 or Neldo Levy : +33(0)686 699 827 - Worldwide Shipment
---
MIDUAL Type 1
Motocyclette française de luxe. Only 35 will be built. Please consult Autodrome Paris to order your own example
Midual Type 1 - Luxury Motorcycle hand-crafted in France
High technology and a passion for perfect quality - Available from Autodrome Paris
---
Michel Levy: +33 (0)630 096 491 or Neldo Levy : +33(0)686 699 827 - Worldwide Shipment
---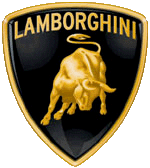 ---
Michel Levy: +33 (0)630 096 491 or Neldo Levy : +33(0)686 699 827 - Worldwide Shipment
---
The one-off show-car MASERATI Boomerang has just been sold for 3,3 Millions €... This price demonstrates the extreme importance
of advanced style designs for Collectors : in the seventies, the Boomerang set a new style trend with its design based on straight lines.
---
Lamborghini Boxer Bike 900 cc 4-Cam (less than ten ever built). POA
---
"Ferrari 375 MM", Sculptor: Alain Moitrier, cast bronze, 1989. One of only 4 Artist's pieces.
Hand cast and polished by Fonderie Susse Frères (partners of Rodin, Giacometti) : 5.000€
---
AUTODROME PARIS EXPERTS IN CLASSIC CAR INVESTMENT

Neldo Levy: +33 (0)6 86 69 98 27 - Michel Levy: +33 (0)6 30 09 64 91 -
---
JAPANESE LUXURY MAGAZINE "VINTAGE LIFE" FEATURES AUTODROME-PARIS IN ITS LAST ISSUE ABOUT FRANCE VINTAGE EXPERTS
CLICK HERE TO READ THE COMPLETE ARTICLE
AUTODROME PARIS OFFERS ITALIAN CLASSICS RESTORED TO NEW
---
More information; please click here...
---
RETROMOBILE 2010 : AUTODROME WAS PRESENT..
Left : Mr Jules Heumann, founder of the Pebble-Beach Concours of Elegance visits Autodrome's stand (with necktie: Neldo Levy, Director of Autodrome).
Right : before the official opening, three great Gran Turismo of the 50s, 60s and 70s : Aston Martin DBS, Lamborghini Countach LP400, Lancia Flaminia Touring.
The "Mardikian" Countach LP400 Spider, owned by Autodrome, was made for Rod Stewart, and was publicly displayed by us for the first time since the 80s...(photo AllSportauto)
---
AUTODROME PARIS EXPERTS IN CLASSIC CAR INVESTMENT

Neldo Levy: +33 (0)6 86 69 98 27 - Michel Levy: +33 (0)6 30 09 64 91 -
THE REMARKABLE LOTUS EUROPE Series 1
A major step in Sports cars History: how Chapman brought the F1 feeling to the road.
The Lotus Europe - type 46 -, revealed in 1966 is one of the very first GT with central engine, very close to racing prototypes.
Only a few have survived. Driving sensations are second to none. The competition type 47 version was a huge success on track.
Sought after by most Collectors, this kind of ultra-light hand built Classic GTs are impossible to build today, because of the legislation.
Interest for these sports cars is rising: Alpine, Matra-Bonnet Djet, Porsche 911 short wheel base (1966-67) are steadily on the rise in the market.
AUTODROME PARIS EXPERTS IN CLASSIC CAR INVESTMENT

Neldo Levy: +33 (0)6 86 69 98 27 - Michel Levy: +33 (0)6 30 09 64 91 -
---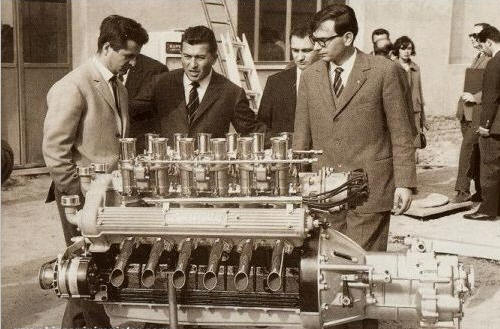 Ferruccio Lamborghini presents his first V12, designed by ex-Ferrari Giotto Bizzarini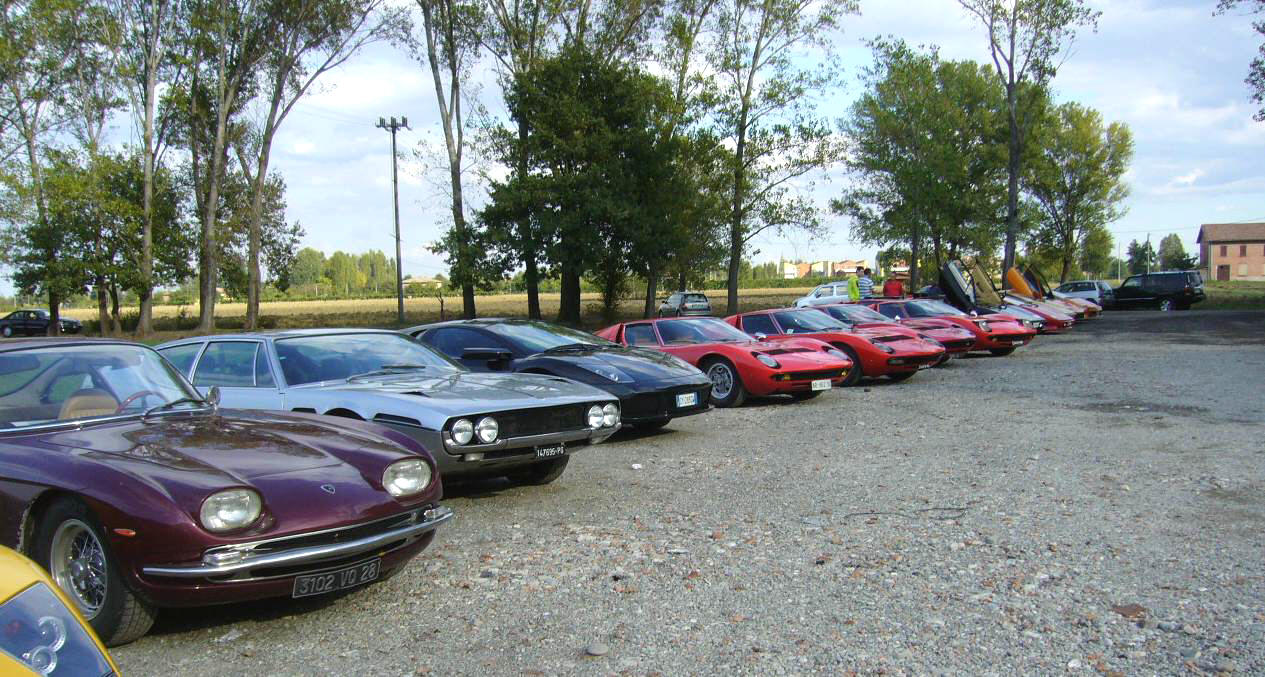 A few of the fine automobiles parked during the Lamborghini meeting.
AUTODROME was invited to a really unique event : a friendly gathering of all the people who made the Lamborghini legend. Paolo Stanzani, Giotto Bizzarini, Ubaldo Sgarzi, Claudio Zampolli, GianCarlo Guerra, Orazio Salvioli, Fabio Lamborghini, Umberto Marchesi (chassis manufacturer) are only a few names among Ferruccio Lamborghini's Team that came to Sant'Agata for this exceptional days.
From L to R . 1- Neldo Levy (Autodrome) and Cesare Lodi, former Lamborghini test driver . 2- Edmond Ciclet, former Lamborghini France Technical Director talks to N. Levy and Paolo Stanzani, who designed the Miura with Dallara, and the Countach, and Lamborghini CEO in the 70s. 3- Michel Levy (Autodrome) with Giancarlo Guerra, former Scaglietti Head, who then was in charge of the Countach bodywork shop at Lamborghini. 4- M. Levy with Ubaldo Sgarzi, former Lamborghini and Pagani Commercial Director. 5- M. Levy with engineer Giotto Bizzarini who designed the first V12 Lamborghini after designing the Ferrari GTO. 6 - M. Levy with Paolo Stanzani, "God" for many Lamborghini lovers.
MORE PICTURES OF THE EVENT: PLEASE CLICK HERE
This gathering was focusing on people rather than cars, and very different from other events. It is very important to listen to all these key players of a period now gone, so as to record and preserve all the available information on the History of Lamborghini. This avoids all risks of distortion or mishandling of essential historical information. As Lamborghini collectors and historians, we have always strived to stay in direct contact with the former Lamborghini people, and we will continue to update and complete available information on this magical period.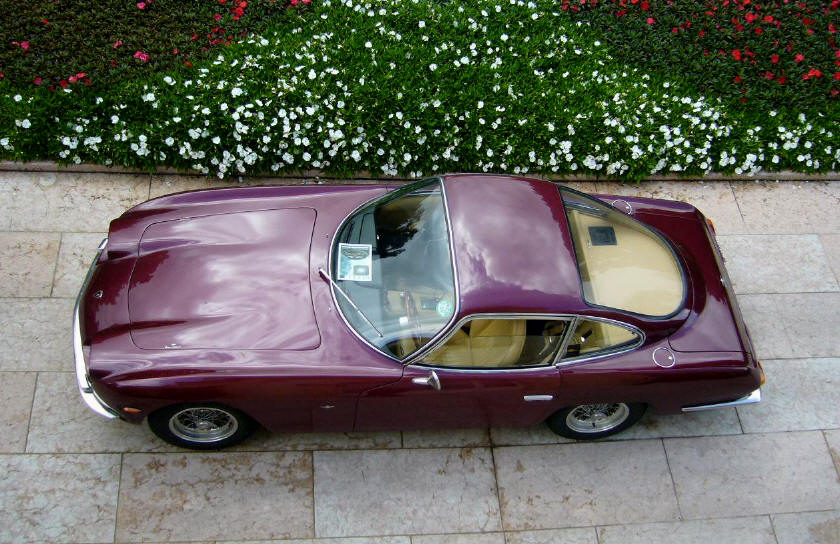 The Lamborghini 350 GT of Edmond Ciclet (former Technical Director of the Lamborghini network in France).
This car is one of the earliest Lamborghini in existence, and it is of course in perfect condition : 1200 km, and back were just a warm-up.
As anticipated, this magnificent classic won the most sought-after prize of the best Lamborghini at the meting..
---
---
THE FAMOUS JAPANESE MAGAZINE "ROSSO" PRESENTS RARE LAMBORGHINIS OF THE AUTODROME COLLECTION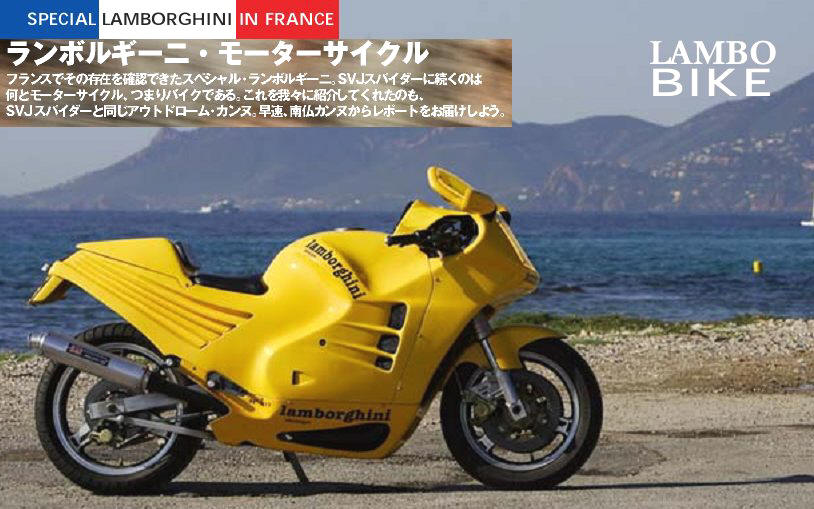 The famous luxury Japanese magazine ROSSO, specialising in classic cars, especially Lamborghini and Ferrari, was visiting Autodrome-Cannes a few months ago and has issued a long article on some of the "pearls" of the Lamborghini Autodrome collection (please click on the photos to open the 2 MB pdf document).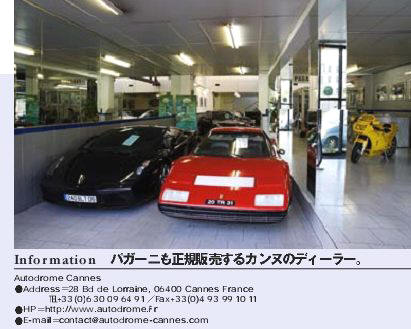 The Autodrome Cannes show-room pictured by the Japanese magazine ROSSO
---
AUTODROME PARIS PRESENTS THE FABULOUS RACING CD-PANHARD OF LE MANS 1964
The famous charity event "SPORT & COLLECTION, 300 FERRARI AGAINST CANCER" took place last week-end (1-2-3 june) on the Val-de-Vienne Circuit near Poitiers.
AUTODROME was presenting the CD-PANHARD LM64, one of the only two extraordinary prototypes having taken part in the 24 hours of Le Mans 1964, along with the Ford GT40, the Ferrari 275 P and GTO... A perfect opportunity to meet our clients and friends, and share our passion for classic and sports automobiles around this wonderful and famous racing car.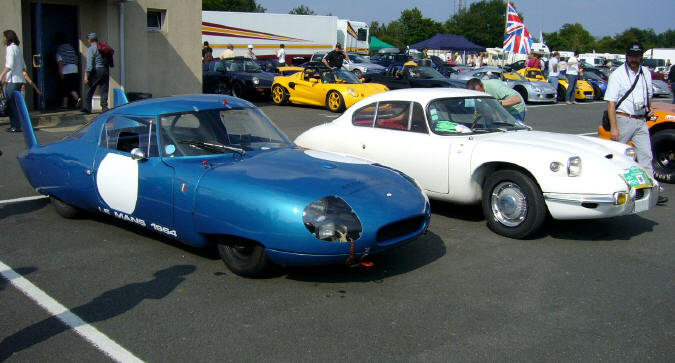 We had the pleasure to park side by side our fabulous CD-Panhard prototype, built for Le Mans 1964, and the production Panhard-CD : both cars
demonstrate the talent of Charles Deutsch, and engineer who took the Panhard-Levassor story one step ahead - the wonderful end of a Legend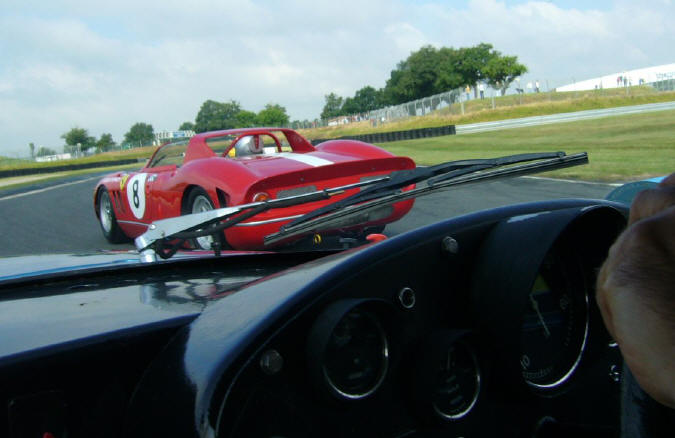 Our CD-Panhard on the track : taken over by a Ferrari prototype, driven by David Piper in person ! What more could you dream of ?
A resurrection of a scene from the 24 Heures of Le Mans, with Ferrari (275, 330 P, LM), Ford GT, Cobra, and CD LM 64 as key players.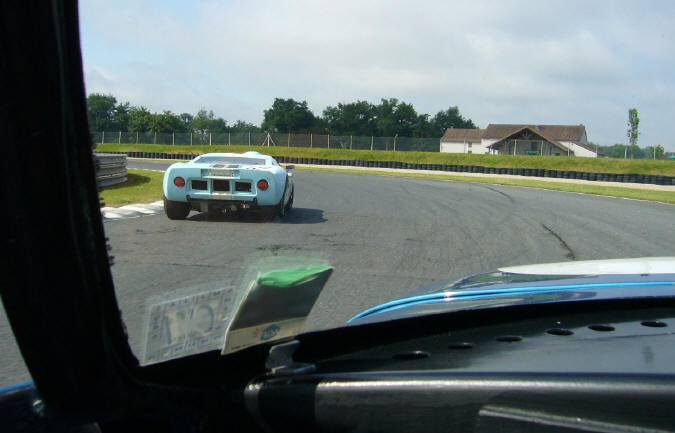 Another memorable scene, seen from the cockpit of the CD-Panhard LM64: we give way to a fabulous Ford GT40.
In the 1964 Le Mans race, the last surviving Ford driven by Phil Hill & Bruce Mc Laren retired roughly at the same time as our CD #45.
---
PRESS :
The British magazine Classic Cars highlights the Lamborghini Pregunta as one of the 10 best cars at Retromobile.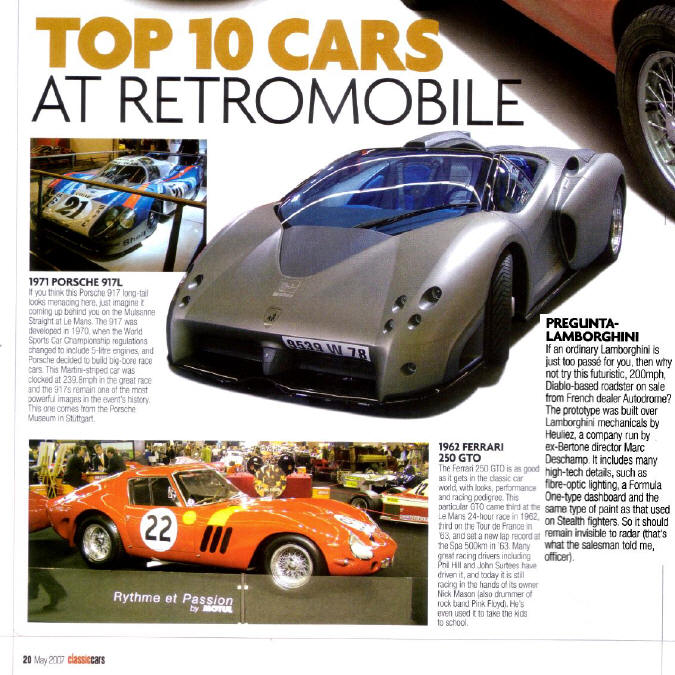 Classic Cars ranks the Lamborghini Pregunta displayed by Autodrome as one of the "Top 10 cars" at Retromobile,
with the Ferrari 250 GTO (Nick Mason's Collection) and the Martini Racing Porsche 917 (Porsche Museum).
---
Specialised magazine "RETROVISEUR" says that AUTODROME is "the reference for Classic Lamborghini":
RETROVISEUR, one of the most respected classic car magazines, comments on Autodrome Cannes.
Their conclusion, based on Autodrome's experience and trust relationship with clients: "The best classic Lamborghinis always end at Autodrome-Cannes".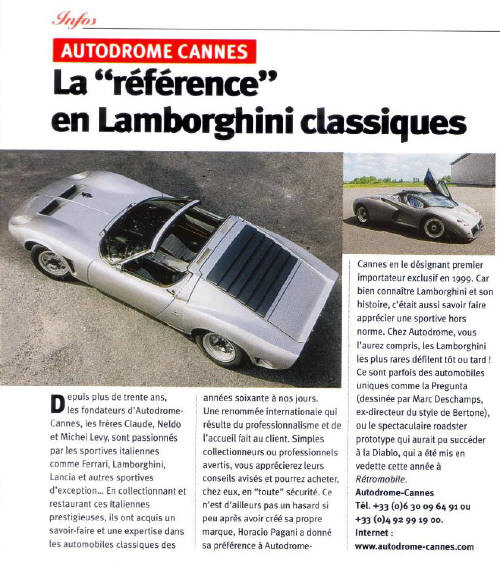 "Autodrome Bulletin": Issue ##20 is available.
Previous issues:
Paolo Stanzani: "How Ferruccio Lamborghini and I launched the Bugatti EB110 project ..."
(Interview by Michel Levy, Autodrome).
From Cannes to Prague in a Pagani Zonda S... in one night and under a heavy rain.
Preview/For sale: Bugatti Veyron 16.4, Zonda F berlinetta new.
The Classic Car Market is safer than Stock exchange...and a source of pleasure !
Currently in French. Subscribe here - FREE subscription and no spam
---
Tel. +33 (0)630 096 491 or +33(0)686 699 827 Shipment worldwide - English website:

Presentation of the PAGANI Zonda F at AUTODROME Cannes : a friendly gathering around a glass of Champagne.
---
"Mankind is becoming mono-cultural ; we are getting prepared to mass-produce civilization, like beetroot. The menu will be composed of this single dish". (Claude Lévi-Strauss).
Autodrome clients demand exclusive automobiles, of the highest quality but also unusual ones. No wonder that precious encounters happen then...You only live once. Some individuals (not necessarily the richest ones) cannot stand to be lost in the crowd of banality, it's a matter of character - whether you have one or not. They just want to live up to their true expectations. One very special day, you see a car : it's this one - and no other - you just need it.
For many educated people, it's simply a Classic car...
---
FREE : consult the AUTODROME PARIS Classic Cars database
This tool offers you instant access to key technical specs, historical details, production years and quantities, about 1500 different models, focusing mainly on post-war cars.
This new service is not meant to be compared to existing specialised sites, dedicated to one make or even to one model ; instead, this tool is designed to be quick, simple to use, and synthetic. You will get immediate answer to many questions such as : how many Aston-Martin DB5 have been built ? How many versions for the Jensen Interceptor ? Is the Lamborghini Islero more rare than the Miura ? What are the key characteristics of the first Porsche 356 ?
We are confident that our competencies and experience are a value to our customers. This database is a work in progress, and will be completed with time. Thank you for your feed-back on any mistake or missing information.
To access the Autodrome Database, just click on the AUTODROME checkered flag. Enjoy the visit !
---
The complex notion of Historic value in a Classic Car (article in French)
Gran Turismo... the truth about hi-performance GTs.
Classic Cars as masterworks: are automobiles more than machines ?
---
AUTODROME's reputation, built through four decades, is based on a very unique way of doing business, where mutual trust is a key value. We have established long-term relations with our clients and partners, fostered by a shared enthusiasm for classic and performance cars. As a result, we are proud of providing our clients with the very best examples of prestige and sports cars available on the market.
AUTODROME has a triple expertise :
- Autodrome has been exclusive French importer for Pagani Automobili since 1999.

- We buy & sell Classic Automobiles, specialising in classic Lamborghini, Ferrari, Maserati, Lancia, Aston-Martin, Bentley, Bugatti, as well as sports and luxury modern cars.

-

We sell new cars : Lamborghini, Ferrari, amongst others. With our 35-year experience, we offer the best advice and support for such investments, with excellent payment conditions.

AUTODROME has excellent, long-standing relations with the Sant'Agata plant and takes your order for your new Lamborghini and Ferrari.
We select only the best opportunities, based on careful maintenance, history, rarity or price-to-value ratio. Autodrome provides cars in mint condition, or extremely rare, and always with expert advice to optimise your investment. Legends become available at surprisingly realistic prices, making it possible for you to enjoy the best of Classics, technology, luxury and style, whilst wisely investing your money.
Welcome to Autodrome !

---
Michel Levy: +33 (0)630 096 491 - Neldo Levy: +33(0)686 699 827 - Worldwide Shipment
---
Legal disclaimer © AUTODROME PARIS 2004-2012 - Copyright Autodrome Paris SARL